DeVaughn Bell
Born and raised in Washington, DeVaughn Bell is passionate about his community, his faith, and his food. Bell entered the Pivot Program with a plan for his halal catering business, "The Empty Plate" already in place.
When you speak to DeVaughn about "The Empty Plate," he lights up, saying, "The food is so good, nothing is left behind." He's committed to being a D.C.-based operation, first with a food truck and eventually with a brick and mortar restaurant, and a trusted spot for halal and vegan customers to enjoy a meal.
DeVaughn is currently an intern at Prequel Restaurant, where he supports all front and back of house operations, and is working on the development of a new menu concept. He is "a great representative of the program," and "an integral member of our team," says Prequel co-founder Andrew Harris, adding that DeVaughn is "super personable with guests and works hard." (Read about DeVaughn's internship experience here).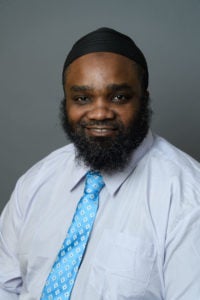 DeVaughn says that he didn't choose cooking. Cooking chose him: from learning to cook from his mom to finding that the only work he could get right out of incarceration was in fast food. He eventually worked his way up to manager at KFC, which is where he discovered that he had valuable communication skills. While incarcerated, DeVaughn became second in charge of the dining facilities, which served 1,200 people a day. The Pivot Program became key in helping Bell combine his long experience in the food industry with his entrepreneurial mindset. 
"Growing up in the streets, you direct your energy to negative things. This program showed me that those skills I already have can be transferred and used in a positive way. Customer service has always been my thing. I have a business mind. I just wasn't applying it."
Through the Pivot Program internship, DeVaughn has realized that his talents are best utilized in management and ownership, instead of just in the kitchen. "In management you can see the whole place, the front and back of the kitchen. Had I not been in this internship, I would've been cheating myself trying to split my time in my business.
Through his time in the Pivot Program, DeVaughn said he learned that "having resilience and not letting the bad things that happen define you is vital. You can turn a negative into a positive. That was a chapter of my life, and this is a new chapter. We all fall — standing is a choice."
DeVaughn has also been interviewed widely in the press, including appearances on The Kojo Nnamdi Show and in the Financial Times.
To view DeVaughn's resume, click here, or see his LinkedIn profile here.