Kadija Clifton
Kadija is passionate about making a healthier lifestyle more accessible to residents in under-resourced communities. She currently works with One Tent Health, a non-profit provider of low cost community-based AIDS screening services, as their community outreach manager.
"We love Kadjia," says Mackenzie Copley, Founder & CEO of One Tent Health. "Her explosive energy has proven to be a critical asset as we expand from a relatively unknown organization into one that will become recognized in, and welcomed by, the communities we serve. Kadija's spirit and honesty serve as a critical bridge."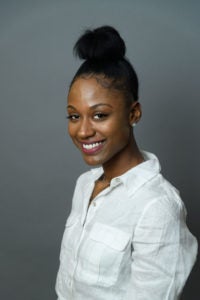 In this role, she is responsible for identifying new community partners and cultivating relationships. She is also an experienced public speaker and is actively involved in programs aimed at encouraging disenfranchised youth to become better self-advocates, especially young women. She has appeared in local and national news outlets, and also works as an advisor, producer, and reporter for the podcast One in Four.
Kadija completed her GED while incarcerated, finishing the program in just three months. That experience inspired her to seek more formal education and training through the Pivot program. She hopes to find work that will let her help better her community.
Click here to view Kadija's resume, or see her profile on LinkedIn.