Sherri Davis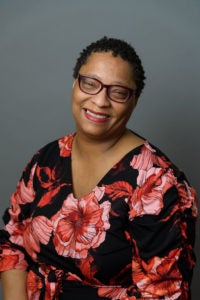 A consummate professional, Sherri holds two masters degrees: one in business and one in primary education. A former DCPS elementary school teacher, Sherri is currently working for the director of communications at Common Cause, a nonpartisan government watchdog.
While at Common Cause, Sherri has proved herself a talented writer, researcher, and communicator. Her recent work includes an essay about prison gerrymandering, a practice that concentrates power in white communities by counting (often minority) inmates as residents of the states in which they are incarcerated without allowing them to vote.
"Sherri quickly became one of the faces of Common Cause," says Keshia Morris, the Census & Mass Incarceration Project Manager at Common Cause. "She helped us with our work on two Supreme Court cases. The first one was our own case in which we saw activists come in from different states. Sherri jumped right in and helped us organize the rally right from writing signs to helping advocates during the event."
Sherri has over 14 years of experience as an accomplished elementary school teacher, and received a TEAM (Together Everyone Achieves More) award for making some of the most significant gains in reading test scores in D.C. Public Schools. She served for several years as her school's representative for the Washington Teachers' Union, and has an MBA from Strayer University, as well as a bachelor's degree in business administration.
Sherri is looking for an administrative position in a business or educational institution.
Click here to view Sherri's resume, or see her profile on LinkedIn.