Alumni Spotlight: Marcus Butler at Fifth Tribe
Posted in News | Tagged Fifth Tribe, Marcus Butler
When Marcus Butler was enrolled in the Pivot Program in 2018, he was paired with digital agency Fifth Tribe for his internship experience. Now a Pivot graduate, Butler works as a full-time web developer for the same company.
Butler said that every day at Fifth Tribe is marked by constant learning. "They keep pushing me to learn more and as I learn more they give me more to do."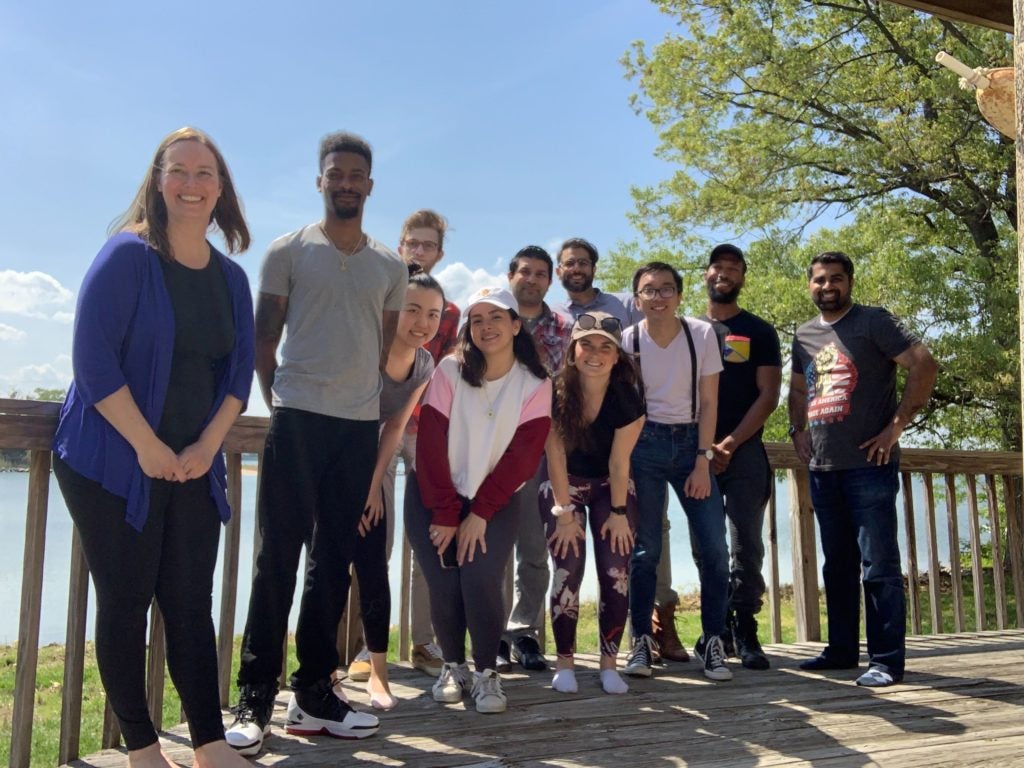 Over the past year, Butler has worked on a number of client projects, including a project with the AARP Foundation where he was able to build a fully functional web application for the SNAP food stamp program.
Right now, one of Butler's clients is the international non-governmental organization The Anti-Defamation League. He is working on building a tool to help the organization track extremism online using machine learning.
"Fifth Tribe opened the door for me to dive in wherever I wanted to dive in. That was basically how Khuram explained it to me. He said, 'Whatever you wanna do, just jump in,' and that's how it's been since my internship ended and I started working there full time," said Butler.
Early on, Khuram Zaman, the CEO of Fifth Tribe, noticed that Butler was an extremely fast learner. Butler completed the staff training curriculum quickly, so Zaman moved him deeper and deeper into client projects. Eventually, Butler started to take on entire projects by himself.
"He's able to learn. He's able to adapt. If he gets stuck on a problem, he reaches out," said Zaman. "We have worked with talented web developers throughout the history of our company and Marcus is definitely in a class of his own."
Although the COVID-19 pandemic has shifted his job online, Butler said that his transition to working remotely has been smooth.
"I think the most difficult part about working from home is the fact that I'm at home all the time. Really, I enjoy going to the office and being around people," said Butler.
While his work has kept him busy, Butler is looking forward to the day when he can return to the office.
"I love working with Khuram and everyone at Fifth Tribe and being a developer and coding. That has always been very interesting to me and just being able to go in and do it is a blessing for me, so I can live with working from home for right now. But when it's safe to go into an office, I'll be ready to go into the office."
Zaman said that Fifth Tribe hopes to continue engaging with the Pivot Program in the coming years.
"Marcus has been one of the best hires we've had as a company, and it's been a pleasure working with him," said Zaman. "I would just say to employers that whatever assumptions you have, throw them out the window, and give Pivot a shot. Give it a chance and you would be very surprised with what you would find."
Butler credits the Pivot Program for helping boost his confidence and sharpen his interpersonal skills.
"It's a lot easier for me to deal with people confidently just in my everyday life. It's a lot different being able to tell someone, 'Hey I just finished at Georgetown, and I was learning this and that and I'm doing this now,'" said Butler. "I get a sense of accomplishment in everything I've been doing from the day I started at Georgetown all the way until now."
When asked if he had one piece of advice for current Pivot Fellows, Butler said: "Just give it your all. When I played basketball, my coach always said to leave it all on the court, so when you're at the Pivot Program go in and give it 110%. They're going to work with you but they're only going to do it as much as you work with yourself, so if you give it 110%, they'll give you 110%."