Amber Crowder: Destigmatizing and Humanizing Stories of Incarceration
Posted in News
"Ask Amber Anything" is a popular series on Amber Crowder's TikTok account, where she has candid conversations with her over 30,000 followers.
Crowder is the founder of the Been Down Project, a digital platform through which she shares her own story of incarceration, as well as the stories of others, to destigmatize and humanize what it means to be incarcerated. In addition to her website, the Been Down Project has over 2,000 followers on Instagram, but has found particular success on TikTok (follow her at @thebeendownproject).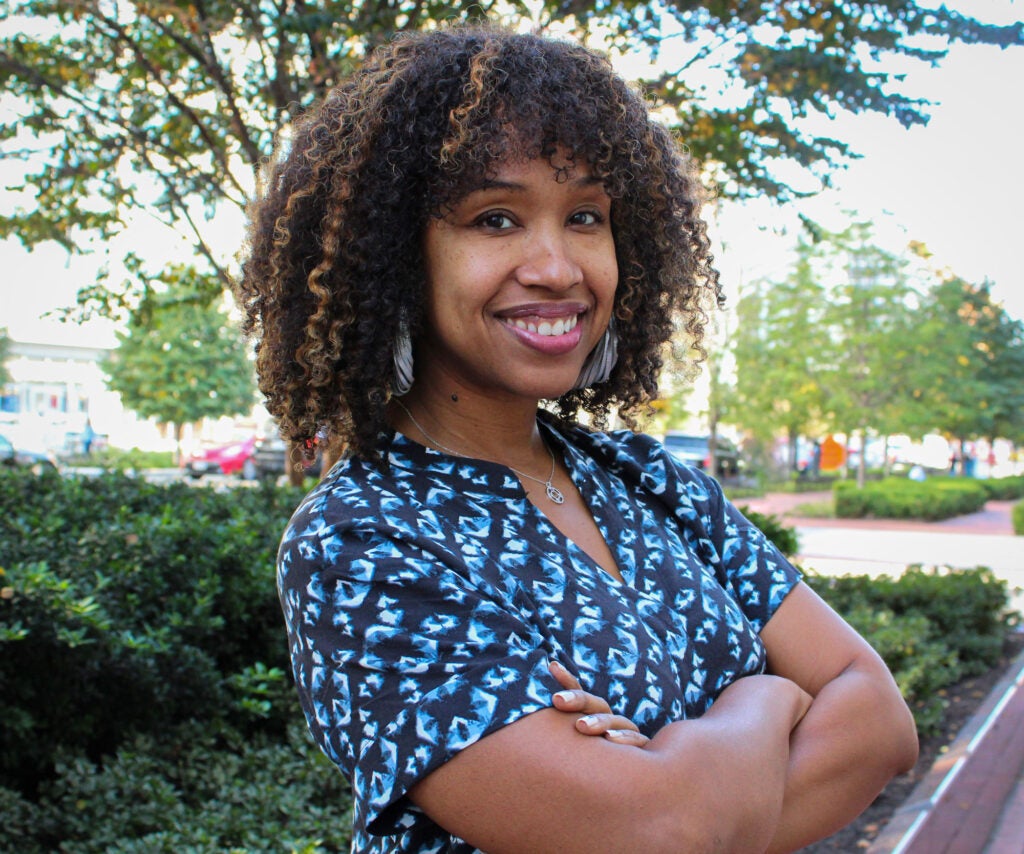 Finding time to post outside of her classes with the Georgetown Pivot Program and her internship, Crowder has grown her following organically. Her videos regularly receive tens of thousands of views and hundreds of comments.
"In the beginning, I had a couple of videos that went viral and got over 700,000 views. And so from there, I started to get a lot of followers," Crowder said. "I think my story is just very interesting to people."
Crowder says her main goal is spreading awareness about the injustices of the criminal justice system.
"On TikTok, it is really easy to respond to someone with a video and answer their questions," Crowder said. "I would say maybe about 50 percent of my followers have been directly impacted by the criminal justice system, whether it be a family member or themselves who were incarcerated. And then the other 50 percent are just kind of shocked."
The Been Down Project has an emphasis on spotlighting the unique experiences of incarcerated women.
"You're generally taking the main caregiver from her community, and sometimes maybe the main financial provider," Crowder said. "You don't really think about the impact that that has on that specific community, or just even the issues that women face when they are incarcerated."
Crowder is happy with the community she has found online through the Been Down Project.
"I have gotten a lot more positive reactions than negative," Crowder said. "Initially, that was something that I was concerned about — that people were going to say things like, 'You did the crime so you have to do the time,' or 'Hope you stay out of prison,' you know, stuff like that. But overall, it has been positive, and people have shown a lot of support."
Joining Pivot with a Background in Business
Aside from her online platform, Crowder also came into the Pivot Program with entrepreneurship experience. She opened a bar in the NoMa area of Northeast DC in October of 2015, which operated successfully for five years until she decided to shutter its doors during the early stages of the COVID-19 pandemic.
"My bar was known for being a safe space, especially for queer people of color," Crowder said. "Whoever you are, however you are, you could come here and not be judged and feel comfortable, so it was really unique in that aspect."
As a business owner, Crowder was drawn to the Pivot Program and the opportunity to sharpen her business acumen as she prepares to take her bar business in a new direction. Her classes in business and entrepreneurship have given her a new perspective on how to move forward.
"I think a lot of times we just focus on the end game, like 'Oh, I want to start this kind of a business.' But starting a business requires you to do a lot more critical thinking, picking it apart and thinking, 'Will this work?'" Crowder said. "For example, one thing we have been talking a lot about is a 24-hour time clock. So when you have a brick and mortar and you're paying rent all the time, you need to think about ideas to use the space around the clock to maximize your revenue."
Crowder plans on reopening her bar under a new name and with a fresh business plan this fall.
"I would like to bring in the same customers, but of course, I always want to expand," Crowder said. "One of my most popular nights at my bar was a Monday night, which was crazy because usually bars get crowded on Fridays or Saturdays. I still get DMs to this day from people saying, 'We miss Mondays in the bar!'"
Through the Pivot Program, Crowder is expanding her own business and professional experience in an internship with IT company Accenture. She has recently been working on an HR project for one of their clients, focusing on recruiting and hiring best practices, making training manuals, and presenting research. As she does on her social media, Crowder is also building awareness about the challenges incarcerated people and returning citizens.
"Working at Accenture has been amazing," Crowder said. "The employees there have been warm, welcoming, and helpful. The highlight is the presentation that I will give to Accenture regarding incarceration and how it impacts the individual, as well as the family. There are over 600,000 employees, so I am excited to share my story with them."