Fellow Spotlight: Lakina Edwards at LINK
Posted in News | Tagged Lakina Edwards, LINK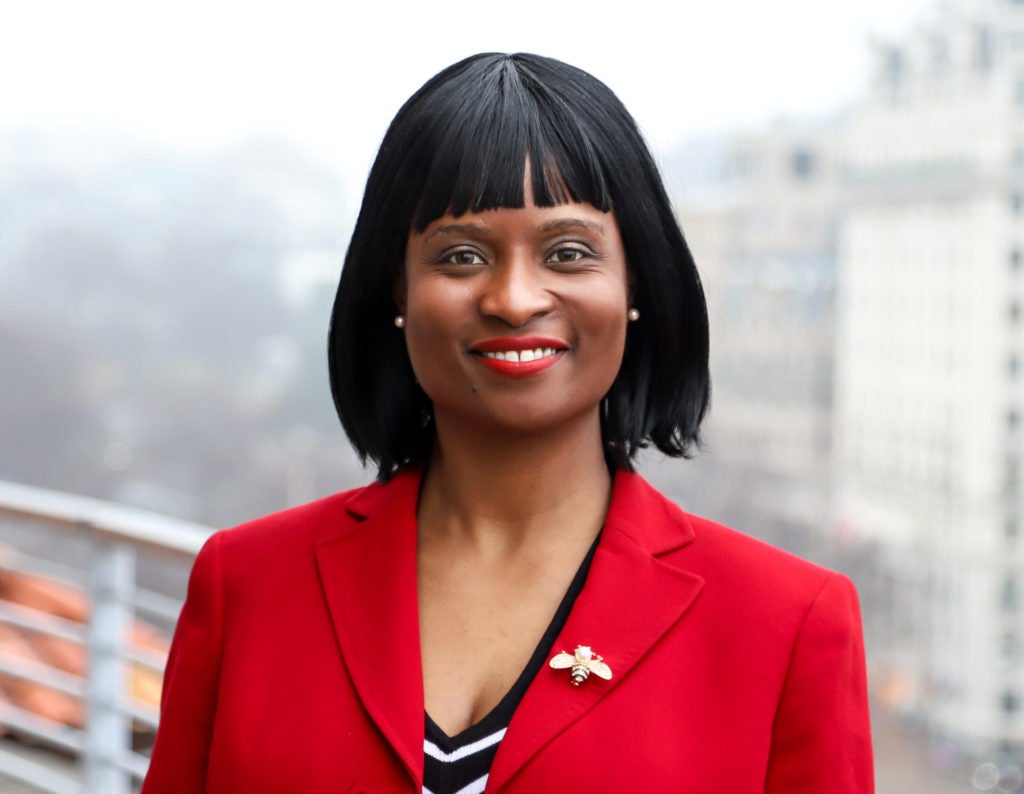 Since transitioning to working from home, in a normal week, Lakina Edwards balances her coursework, her internship, and homeschooling her nine year-old son and five year-old daughter.
"My circumstances are different from my fellow colleagues," said Edwrads. "I am a single mother of two children that have also been transitioning to online learning. I had to find a strategy and schedule that worked for all of us. As two weeks turned into two months, we decided to work together, break together, play together, and plan together – as a family."
Edwards currently interns with LINK Strategic Partners as an associate. LINK is a national strategic communications and stakeholder engagement firm headquartered in Washington, D.C.
"My role as an associate has been an extraordinary experience from the first day," said Edwards. "LINK has introduced me into a new world of experience as it relates to business and what it truly takes to be an entrepreneur. Each day has been an ongoing learning experience." 
Edwards said her favorite thing about working at LINK is the tight-knit team culture.
"Everyone is super supportive, encouraging, and professional," said Edwards. "I enjoy the open communication, support and guidance with any and all projects, and the overall experience of being 'wholly included' despite status or position. LINK has trusted me with responsibilities for projects that matter to me – many of those include making an impressive impact within the community."
Within her internship, Edwards has taken on a wide range of responsibilities. In addition to sitting in on client calls and meetings, Edwards has taken on a big role with LINK's social media team and is also currently serving as the Project Manager for LINK's pro bono project with the Pivot Program.
Molly Mitzner, senior project manager at LINK and Edwards' direct supervisor, said she's enjoyed seeing Edwards grow throughout her time at the company.
"Her energy is infectious," said Mitzner. "She is a force of positivity and I think it's very much needed for the whole team. You can give her anything and she says I want to learn. Give me feedback. Help me. And that is something that not everyone has and it is refreshing to see."
Edwards has been a wonderful addition to the LINK team, President of LINK Michael Akin said.
"She has got this incredible combination of optimism and professionalism," said Akin. "There is never enough hours in the day to get everything done. Things are always more complex than you think they are going to be at the beginning of a project, so if you can remain optimistic and positive through that while also buckling down and getting the work done, that is a great combination and I see Lakina living that every day."
"From top to bottom if you interviewed anyone on our team they would say the same thing," Akin added. "Not only has she been an asset to the team but she's been professional and dynamic and positive. These are challenging times from top to bottom and to still be able to lock in and do your work is incredible."
Edwards' introduction to the Pivot Program involved a chance encounter. At a news conference held by Mayor Bowser last year, Edwards met DeVaughn Bell, a graduate of the Pivot Program and a member of Pivot's first cohort. DeVaughn persuaded Edwards to look into the program and meet with Pivot's academic director Alyssa Lovegrove.
"Once Alyssa and I met, I was completely sold and inspired to sign up for the program," said Edwards.
When asked what she thought were the most important lessons she's learned during her time at Pivot, Lakina listed five major lessons: Trust yourself. Be comfortable with the unfamiliar. Challenge yourself, even in the face of self-doubt, fear, or discomfort. Know that you have a team to lean on. And don't be afraid to fail.
"I am so thankful for every staff, student, visitor, and supporter of the Pivot program," said Edwards. "This program has uplifted my spirits in an authentic way and further inspires me to be the great leader that I have been destined to become."