Georgetown Graduates Second Pivot Cohort
Posted in News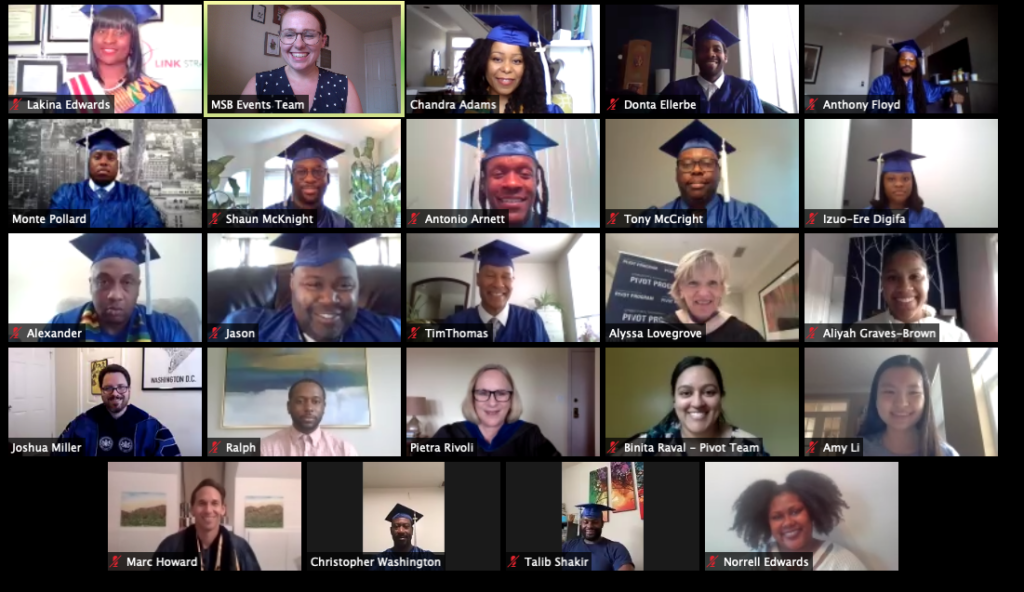 After 10 months, 305 classroom hours, and 105 virtual hours, the McDonough School of Business is proud to announce the graduation of our second cohort of Pivot Fellows. Congratulations!
Family, friends, faculty, and supporters of the Pivot Program gathered together for a virtual End of Year Celebration for the 16 graduates on July 16, 2020.
Pivot Fellows Antonio Arnett and Chandra Adams were chosen by their cohort as student graduation speakers. Arnett delivered a moving speech about his own personal journey.
"I'm a firm believer that your past doesn't define your future," Arnett said. "When I received the acceptance email, I was ecstatic. I was no longer inmate #39734-007; I was now Georgetown Pivot Fellow Mr. Antonio Arnett. And once I entered the classroom, I knew there was no turning back. I was finally in the company of like-minded individuals who all wanted change."
Adams gave a powerful reminder to the fellows to always dream big.
"What separates Pivot Fellows from the many others who've returned to society is not simply what we dream, but what we do," Adams said. "We make the world more like our dreams; having a vista that is more than a cell."
Damien Dwin (MSB'97), CEO of Brightwood Capital Advisors, delivered the graduation address. Other speakers included Professor Michael G. Ryan, who was selected by the class as the faculty speaker, Dr. Unique N. Morris-Hughes, Director of the D.C. Department of Employment Services, and Dr. Paul Almeida, Dean of the Georgetown McDonough School of Business. 
To view Arnett's speech, click here.
To view Adams' speech, click here.
For the entire ceremony, see the full video here.
The Pivot Program is a partnership between Georgetown University and the DC Department of Employment Services, with support from the Minority Business Development Association at the US Department of Commerce. The program serves returning citizens in DC by providing training in business and entrepreneurship as well as work experience. Our Pivot fellows are prepared for business and professional success and to be changemakers in their community.