Georgetown Pivot Program Celebrates 2023 Graduates
Posted in News
Sixteen new graduates joined the family of Pivot Program alumni on June 30 as the program's fifth cohort received their certificates in business and entrepreneurship from Georgetown's McDonough School of Business. 
The room was alive with excitement as the Fellows celebrated the culmination of a year of hard work and dedication in their classes and internships. The leadership and business skills they gained throughout the program have guided them toward new careers and entrepreneurship ventures.
"It is always a thrill to celebrate the accomplishments of our Fellows, and to see their genuine excitement about the path ahead," Pivot Executive and Academic Director Alyssa Lovegrove said. "And after five years of Pivot, it is equally gratifying to see a growing awareness that presenting opportunities to talented and hardworking individuals like our Fellows is something that benefits everyone in the community."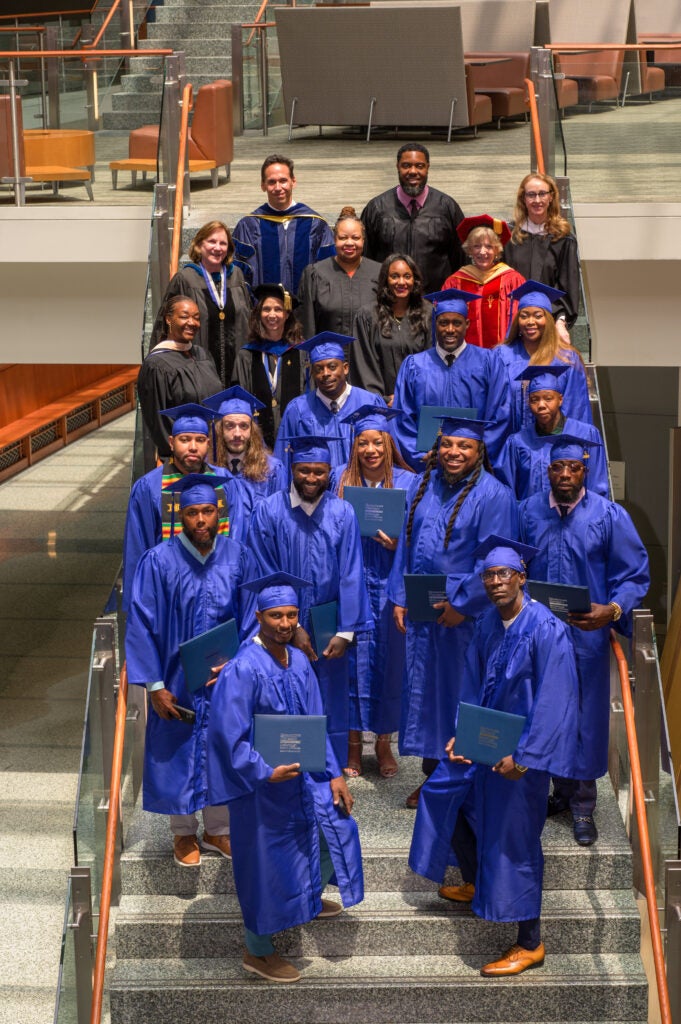 2023 graduate Alexis Green, addressing the graduates and their supporters, said that it took shared strength and determination to excel in the challenging Pivot Program.
"Perseverance is not just a solitary endeavor, but a collective strength that inspires us to uplift one another and make a positive impact in the world," Green said.
The Pivot Program welcomes a new cohort of returning citizens to Georgetown every fall and focuses on professional and leadership development, as well as business and entrepreneurship skills. After completing six months of classes, Fellows gain valuable work experience in three-month internships with local companies and nonprofits.
Graduate Johnnie Akinruli said in his graduation remarks that he and his classmates will work to bring all that they've learned forward.
"Thank you for all you have instilled in us," Akinruli said. "The reward that's in store for you will be our success for our future."
Immediately following graduation, that future for many of the Fellows includes full-time employment and taking steps to build their own businesses. Several of the Fellows are continuing in full-time positions with the companies and organizations where they interned.
In addition to preparing Fellows for success, the Pivot Program also aims to change mindsets among the business community about creating more job opportunities for people with past criminal convictions. Keynote speaker Chiquisha Robinson, deputy chief of prisoner and reentry legal services at the DC Public Defender Service, reminded each of the graduates that they have greatness within them — they just need to continue to nurture it and share it with those around them.
"Let your life testify for the world to see what human potential looks like," she said.
Green left her fellow graduates with this hope: "As we move forward, may our paths be filled with purpose, joy and fulfillment. Here's to a future brimming with compassion, impact, and boundless potential."
.
Congratulations to all the 2023 Pivot Program graduates:
Johnnie Akinruli
Roger Clark
Kelli Davis
Keith Eatmon
Tyronda Ferrell
Tyrell Frierson
Shana Frundt
Alexis Green
Raashed Hall
Julian Harrington
Darius Jennings
Musa Kamara
Kerstan Leonard
Markese Lewis
Curtis Patterson
David Williams
Watch the full graduation ceremony below: