Pivot Graduate LaTasha Moore Joins Leadership Team
Posted in News
LaTasha Moore, who graduated from the Pivot Program in June, joined Pivot's staff full-time as a program associate on September 20.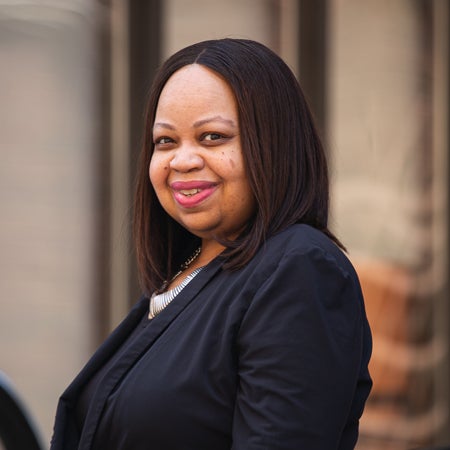 "I feel like I was just a Pivot Fellow, and now I'm on the other side of the mix," Moore said. "I'm excited to be a part of this journey for the next Pivot Fellows and am looking forward to helping them succeed in any way I can."
Moore quickly began helping with admissions for Pivot's fourth cohort, a process she was on the other side of just one year ago.
"I find myself wanting to go the extra mile to help the applicants and Fellows," Moore said. "I can empathize with them because I was one of them."
Alyssa Lovegrove, the academic director of the Pivot Program, says the team is delighted to welcome Moore as the program prepares to begin classes with its next group of Fellows.
"Not only does she bring her many years of administrative experience, she also understands exactly what our Fellows need to succeed," Lovegrove said. "She has so much to offer."
During her time as a Pivot Fellow, Moore excelled both in and out of the classroom. She completed a three-month internship at American Prison Data Systems (APDS) in the spring. In June, Moore and Victoria Hunt won the annual Pivot Pitch Competition for their Next Endeavour Diversity Staffing idea. The staffing business venture would connect returning citizens with employment and diversify workplaces.
As the start of Pivot's fourth cohort approaches, Moore describes this moment as full-circle. She is thankful for the chance to give back to the program she said changed her life for the better.
"I've experienced what it's like being a Pivot applicant and Fellow," Moore said. "And now I get to give back by helping others with that same wonderful opportunity."