Pivot Alum Joe Houston Opens Doors to Fitness in Ward 8
Posted in News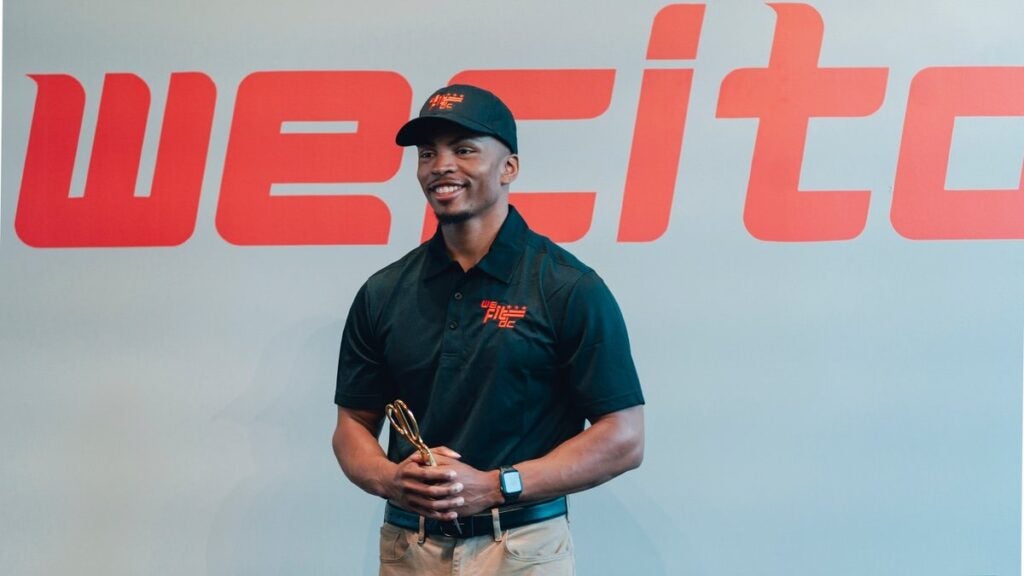 Georgetown Pivot Program alum Joe Houston, Jr. made history with the grand opening of his gym, WeFitDC, in the District's Ward 8.
The new space opened on June 14, drawing an impressive crowd that included D.C. Mayor Muriel Bowser and dozens of excited guests. Unveiling the new gym was a milestone for Houston, who had been developing plans for WeFit before he entered the Pivot Program in 2021. WeFitDC is not only a personal achievement for Houston, but also a major victory for his community in Southeast DC.
Houston said WeFitDC is "the first of its kind" in the city.
"This is history right here," he said. "We're actually moving that far in regards to economic mobility in our community, especially gearing towards health and wellness."
The gym will host a variety of classes, like yoga and boxing, in addition to its traditional facilities, offering something that works for everyone.
Houston is passionate about getting his community active, motivated by the staggering health disparities between Southeast and other areas of D.C. During the COVID-19 pandemic, Wards 7 and 8 experienced the highest death rates in the city as other health issues like diabetes left the community more vulnerable than others. Houston understood the area lacked community spaces that centered health and fitness, and he knew he could be that change.
"Enough is enough," said Houston. "It's really an opportunity for us to show where the gap was and how we are a solution to the problem, that we are a wellness hub for our community, that we save lives, transform lives."
WeFitDC is part of a new retail village, Sycamore & Oak, in Congress Heights that is a step towards overcoming racial economic barriers in one of D.C's most economically disadvantaged neighborhoods. The new complex is a flourishing community center of Black-owned businesses that brings people together and stimulates the local economy, with spaces like WeFit filling gaps in the neighborhood and giving back to the community. Houston was featured in the Washington Post alongside other entrepreneurs from Sycamore & Oak.
All of WeFitDC's trainers are local D.C. natives, some of whom are returning citizens like Houston.
"I'm so glad that I have a for-profit business based around social impact," said Houston.
Houston was already developing his ideas for WeFitDC when he became a Pivot Fellow in 2021, where he gained the business expertise and confidence that helped him turn his dreams into reality.
"You're gonna mess up, but it's about being smarter the next time. And that's what I learned from Pivot," said Houston.
"It's put me around a lot of great people in rooms I never thought that I would be in … I'm confident I'm supposed to be here."