Pivot Fellows Design Solutions for DICK'S Sporting Goods
Posted in News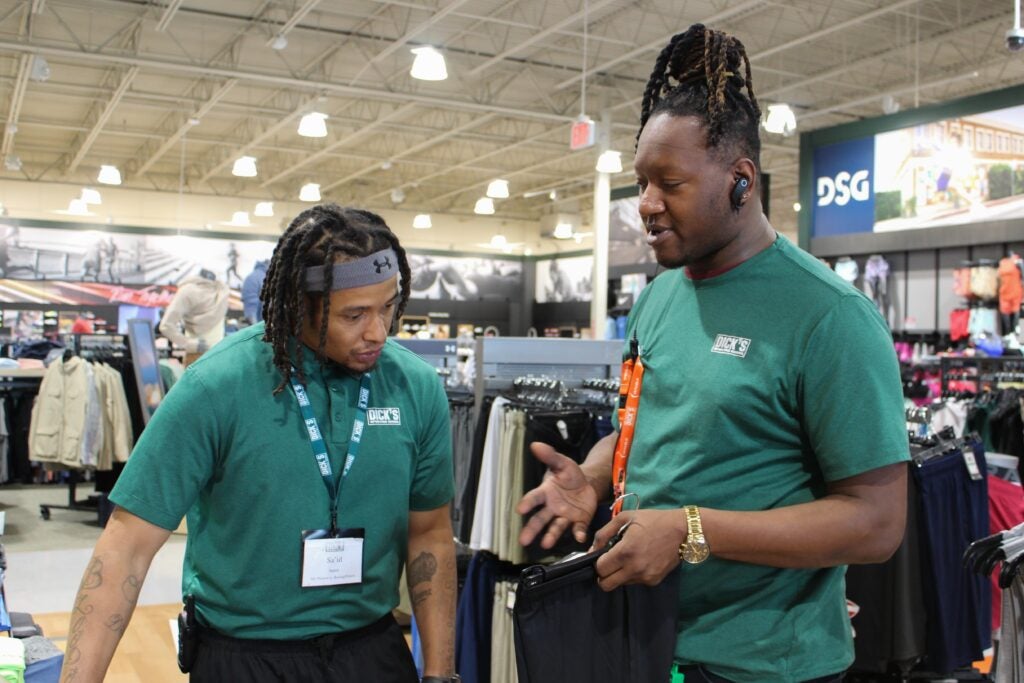 The Georgetown Pivot Program Fellows teamed up with DICK'S Sporting Goods this month for their design thinking presentations, presenting the business lessons they've had this semester to the nation's largest sporting goods retailer.
Fellows worked in teams on dozens of ideas for the company's "Athlete at Any Age" campaign, developing various strategies to target millennial, generation X, and baby boomer shoppers. Projects centered on inclusivity to reach a wide age range of consumers. Other project goals included strengthening online markets, reaching new customer bases, and improving the in-store customer experience.
The pitches marked the end of McDonough School of Business Teaching Professor Evelyn Williams's design thinking class. Through Williams's framework of empathize, define, ideate, prototype, and test, Fellows translated abstract consumer needs into concrete business proposals for Paloma DeNardis, Head of Inclusion & Diversity at DICK'S Sporting Goods. The design thinking presentations will be reviewed by DeNardis and the team at DICK'S for further workshopping and potential implementation in the D.C. area and nationwide.
The teams received resounding feedback from their professor and the DICK'S representative.
"You can tell how thoughtful you have been with your research, understanding each of these demographics, and really trying to understand the DICK'S Sporting Goods business and what might suit us," said DeNardis.
After visiting DICK'S and hearing from real customers, teams split up to brainstorm business plans that targeted the three generations of "Athlete at Any Age."
The first team, "Changing the Game," comprised Fellows Tyronda Ferrell, Roger Clark, Keith Eatmon, and Tyrell Frierson. Focused on millennial shoppers, Changing the Game highlighted disability inclusion, size inclusion, and personalized shopping experiences as major targets for their demographic. The team created a "Hi, I'm Here" campaign to promote inclusion of people with disabilities through a yearly event during Disability Awareness Month, marketing materials featuring differently abled athletes, as well as inclusive hiring practices. The team also devised shopper programs centered around size inclusivity, like clothing fitting algorithms online. Lastly, Changing the Game pitched a range of shopper personalization ideas, from app revamps to in-store lounge areas for DICK'S members.
The second team, targeting Gen X, was made up of Julian Harrington, Shana Frundt, Curtis Patterson, Kelli Davis, and Jonnie Akinruli. The team centered accessibility, sustainability, and in-store shopping programs to improve the consumer experience. First, the team proposed ideas for in-store and online accessibility measures like the "Plan Your Visit" app software that streamlines customer experience. Team Gen X also created an equipment recycling program that would promote the use of sustainable and eco-friendly products at DICK's. Finally, the team targeted Generation X as a generation of parents, designing programs and apps that would connect parents, coaches, and children.
Musa Kamara, Raashed Hall, and David Williams made up the third team, "The Think Masters." Aimed at baby boomers, The Think Masters highlighted the online shopping experience, representation, personal trainers, and DICK'S golf facilities as areas for expansion. The team designed an online digital avatar that would streamline apparel shopping, an online trainer portal, and revamped online registry systems. Other ideas included expanding representation in marketing materials online and in store, partnerships with healthy restaurants, and a "Swing for It" project that would revamp the DICK'S golf bays.
The design thinking process and presentation lay the groundwork for Fellows' future entrepreneurial pursuits and are an essential part of the Pivot Program curriculum, building a skillset that will guide Fellows as they move forward into their internships this spring as well as in their next career steps after graduation.
"This really is a set of skills that you'd need in any workplace," said Pivot Executive Director Alyssa Lovegrove. "Just to see it all come together is really gratifying."