Pivot Fellow's Invention Wins 2nd at Georgetown Pitch Competition
Posted in News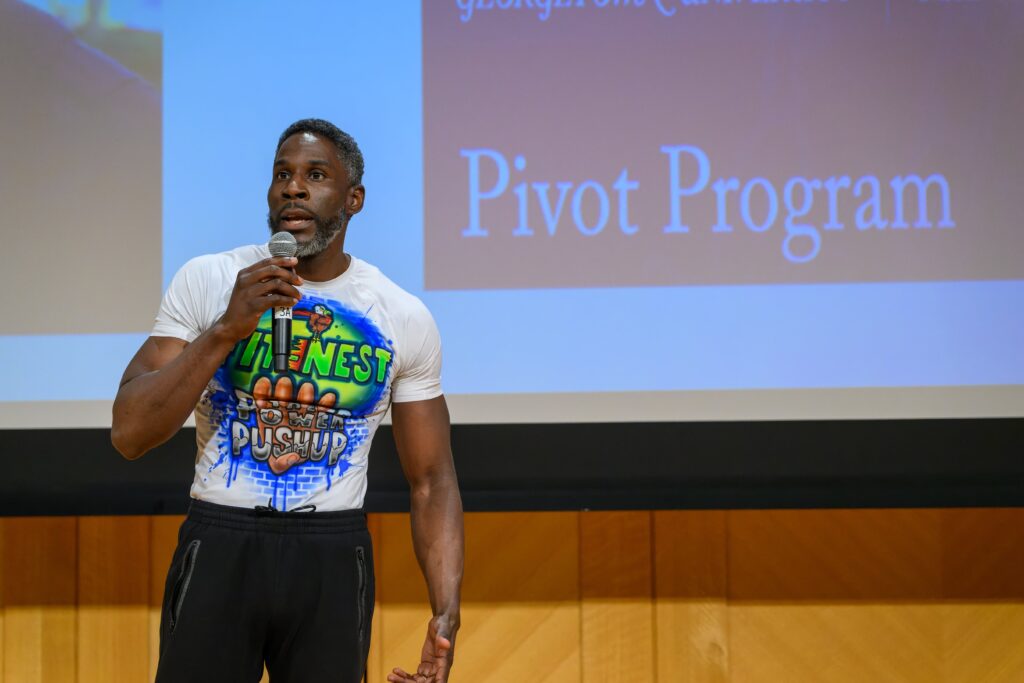 Georgetown Pivot Fellow Raashed Hall earned second place at a Georgetown-wide pitch competition for a unique workout product — one he patented while he was incarcerated.
Hall completed against 42 other Georgetown undergraduate and MBA students at the McDonough School of Business's Rocket Pitch competition on Feb. 2.
"It feels amazing to be considered a fellow Georgetown student," he said. "It was great going into the competition knowing that they extended their hand out to us as returning citizens."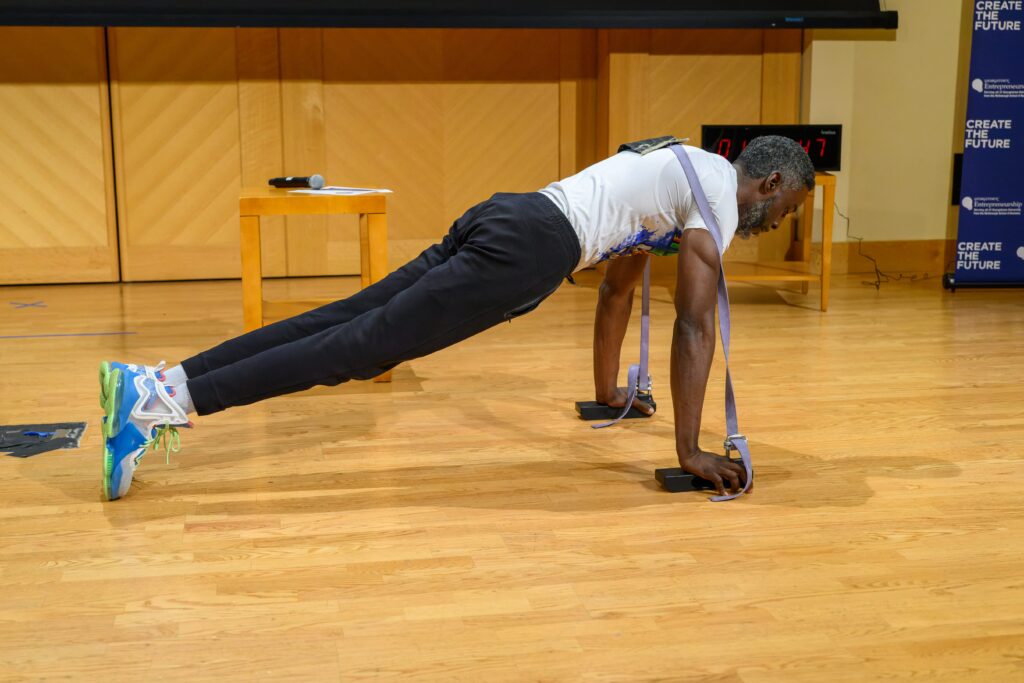 Hall's success at the pitch competition was the culmination of over a decade of inventing and producing his product. The "Power Push Up" is a one-of-a-kind workout device that enhances push-up resistance with an elastic band and two hand grips. As an avid gym-goer and trainer himself, he knew early on he had an idea that would stick with the fitness crowd.
"My product is revolutionary and groundbreaking in the physical fitness realm, and it's worth buying because it works," he said.
When Hall first sketched out designs on pieces of scrap paper in a prison cell, he had to hide them from the guards, worried that his ideas would be stolen or destroyed.
"I had to move my drawings around from place to place because they could just go into your stuff and search around, and next thing you know, you're like, 'Where did my ideas go?' We had no privacy," he said.
Many incarcerated people find new passions, teach themselves skills, or pick up hobbies while incarcerated. Hall focused all of his time and discipline on his workout product as a way to mentally escape from prison.
"As you can imagine, a lot of stuff goes on in prison," he said. "I channeled every last bit of my energy into that project so that I wouldn't end up doing something I might regret."
In prison, Hall had to get creative with limited access to materials to develop his first prototype. Using a piece of foam he found in the trash, Hall carved out his first model of the Power Push Up with a razor.
"I took it to one of my buddies that worked in the woodshop and asked him to make a model of it. He did all the measurements and created the first real model of my product," he said.
Hall began the patenting process for the Power Push Up in 2010. The patent prosecution phase, which is a tedious back-and-forth exchange between an applicant and the U.S. Patent and Trademark Office (USPTO), usually takes less than two years with a patent attorney. But without financial means to hire one, Hall had to file "pro se" — completing the process only with the guidance of the USPTO's Pro Se Assistance Program.
"When you file a patent pro se, they don't treat you like a patent attorney, so it's the long way," Hall said. "They do all that they can to ensure that they're giving you the help that you need."
In 2015, after more than five years of incremental progress and communication with the USPTO, Hall's brief was accepted and the Power Push Up was registered as an official U.S. patented invention.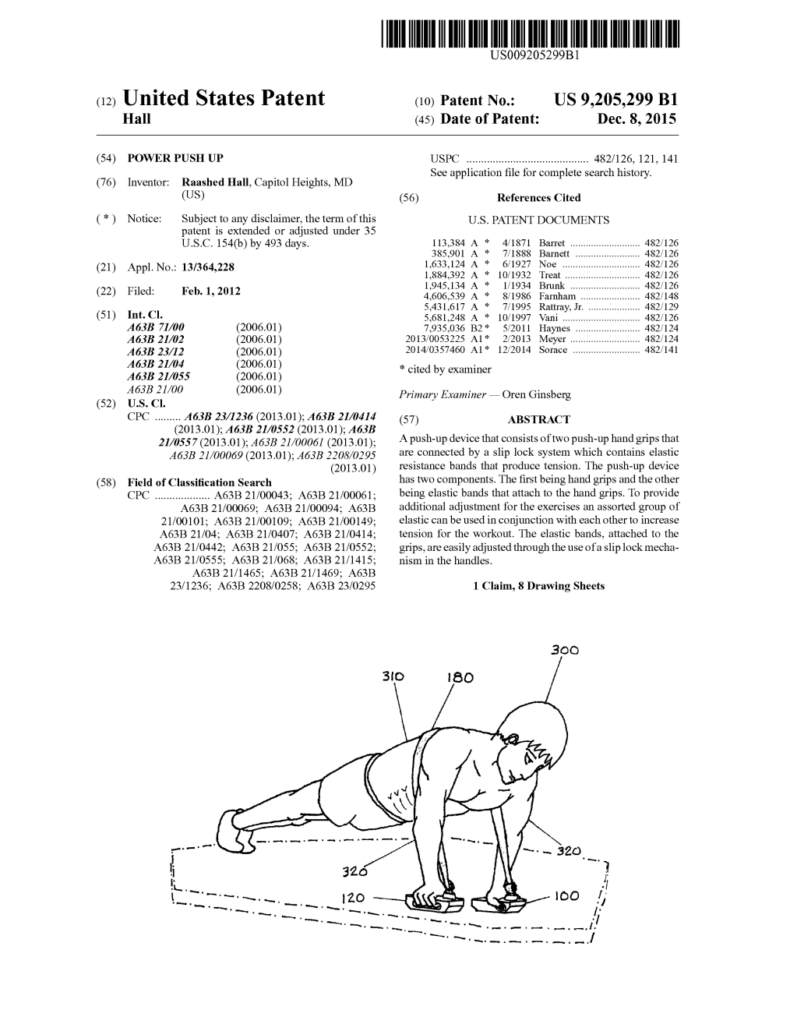 "My family helped me with the process and made three prototypes of the Power Push Up," he said. "I'd never even seen it, and I never actually touched the real one until I came home."
Hall returned home in April 2022 with a U.S.-patented product and an ambition to sell the Power Push Up on a large scale. He applied to the Georgetown Pivot Program in the summer of 2022 with hopes that the business curriculum would prepare him to make a living selling the product he worked so hard to create.
"When I came home, it was lying dormant and I didn't know where to go, what to do, who to approach," Hall said. "Joining the Pivot Program propelled me and doors began to open."
As a Pivot Fellow, Hall has soaked up every opportunity to learn from his professors. He shows up to class early and spends extra time with the course materials in the evenings.
"He has the sense that he needs to make up for lost time, and he's certainly doing that," said Pietra Rivoli, the founding director of the Pivot Program. "We're all Team Raashed."
Pivot's executive director Alyssa Lovegrove attributes Hall's success to his studiousness and receptiveness.
"Rasheed is coachable and so eager to learn," Lovegrove said. "He's become more and more confident in himself, which showed in the pitch competition."
Since his first day as a Pivot Fellow in October 2022, Hall has gone from a reserved yet persistent inventor to an outgoing and confident entrepreneur. He believes his Pivot professors and peers have made this personal and professional development possible.
"The support that they give me boosts my morale and my confidence," Hall said. "Now, it doesn't matter who you put in front of me. You could put [Mark] Zuckerberg in front of me and I'm still going to pitch my product because I believe in it."
After winning $750 at the Rocket Pitch competition, Hall went on to become a finalist and take home $1,000 in Georgetown's Entrepreneurship Challenge, the university's largest annual pitch competition
"I've got a lot on my plate, but not in a negative sense. I have a clearer roadmap and a more stable picture of my career," Hall said. "Rather this than banging on the jail cell asking, 'When are we coming out?' So I embrace this."