Pivot Pitch Competition Showcases Budding Entrepreneurs
Posted in News
On June 14th, fifteen Pivot Fellows presented their entrepreneurial venture ideas, from catering to cleaning to custom sneakers, before a panel of judges at the Pivot Pitch Competition. The pitch event was the culmination of months of work during which the fellows developed business plans while studying business and entrepreneurship. The grand prize was $4,000 in startup funding.
The first prize winners were Ralph Green's Back of House, a cleaning package service for restaurants, and DeVaughn Bell's The Empty Plate, a halal and vegan catering business.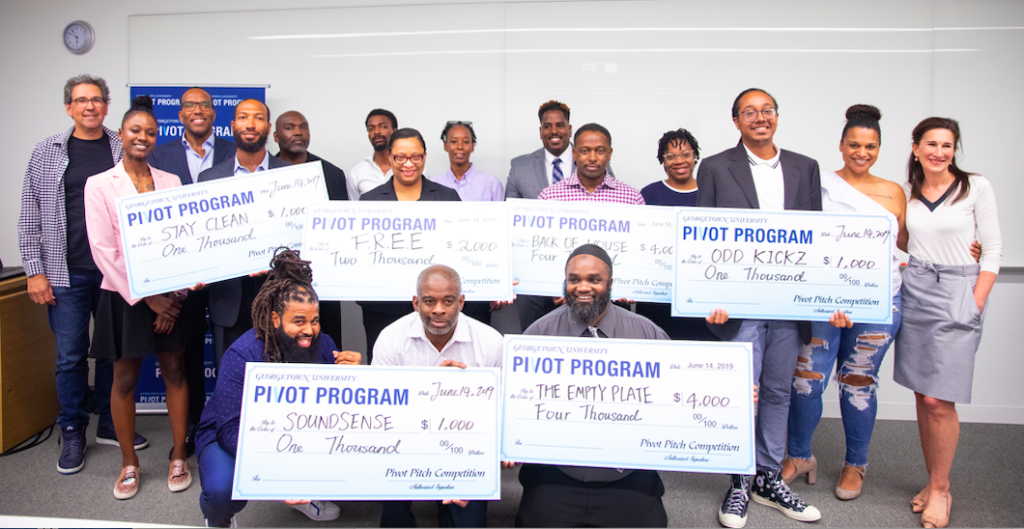 A second prize of $2,000 went to Troy Burner, Sherri Davis, and Corey Pollard for their business venture F.R.E.E. (Felons Reentering Environment Equitably), an online marketplace to connect employers with returning citizen job seekers.
We gave out three third prizes of $1,000: to Marquis Hicks, founder of Stay Clean, a mobile car cleaning service, to Deron Doby, founder of Odd Kickz, a custom shoe design venture, and to Corey Pollard, founder of SoundSense, a coworking space for musicians.
The rest of our teams received honorable mentions and prizes of $750 to start their business ventures. Thanks to the wonderful judges for offering their support, feedback, and connections.