Pivot Program Transitions Online for the Spring
Posted in News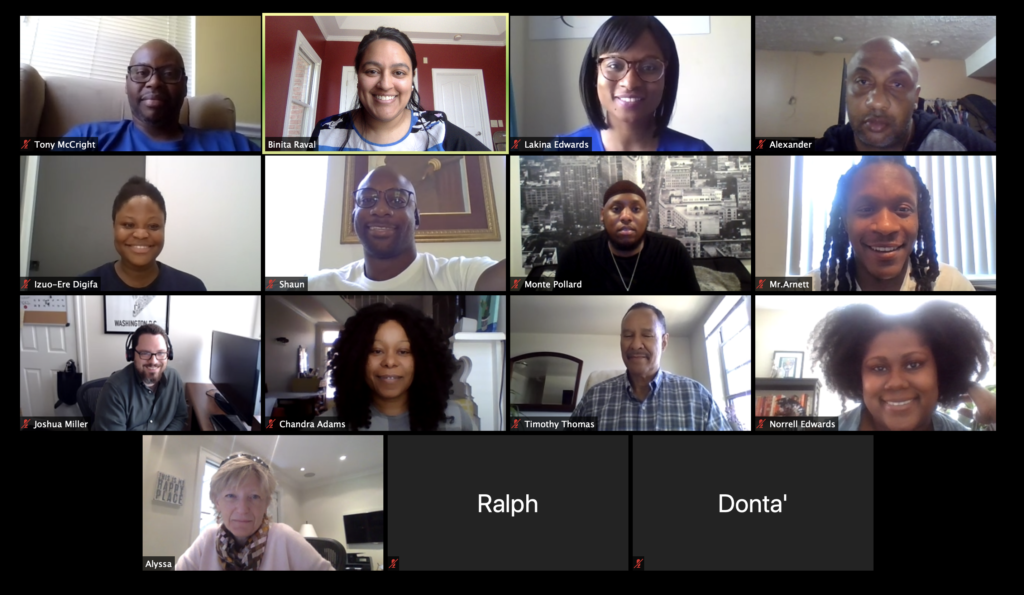 As classes and internships transitioned online in mid-March, the Pivot Program adapted to new technology to maintain a productive learning environment during the COVID-19 pandemic.
Similar to Georgetown Main Campus students, Pivot instructors and fellows transitioned classes to Zoom, a videoconferencing service that provides a venue for remote online meetings and mobile collaboration. Pivot Fellows continued to take classes remotely three days a week.
"The first challenge was getting smooth with the technology because the course wasn't designed to be an online course," said Professor Sarah Stiles, who taught Social Entrepreneurship to the Pivot Fellows. 
After a couple of quick lessons on Zoom and tips on video conferencing etiquette, the fellows adapted quite easily to the new learning format, according to Pivot's Academic Director Alyssa Lovegrove.
"What we learned is that actually the little features of Zoom work really well with the fellows," said Professor Lovegrove. "For example, we all learned how to use breakout rooms pretty early on and so you could have the whole group together and then you could send people into breakout rooms. In the breakout rooms, they were really productive since you have to be pretty engaged."
Pivot instructors focused on providing as much support to the fellows as possible, she added.
"We're very mindful that our Pivot fellows often face special challenges, and these could be exacerbated in these unusual times," said Professor Lovegrove. "Many do not have strong technology resources at home, and the health and social services they rely on are strained. They may be living in environments where many people around them lost their work quickly, so there's suddenly an increased financial burden and I think a lot of the fellows felt personally responsible for looking after other family members in addition to themselves. So they've had to deal with that kind of emotional burden and still be present in class." 
The Pivot Fellows were originally scheduled to graduate in May. However, due to the uncertain circumstances, Pivot has postponed the graduation date until early July and has added a summer term. A few fellows have already exited the program for permanent employment.
For the summer term, the fellows are working through an online curriculum focused on core skills and competencies needed for high performance in the workplace.
Each of the fellows also has an individual mentorship session with one of the members of the Pivot team each week.
"We focus primarily on their transition plan, so what opportunities they're looking at, or if they're thinking about supporting themselves through some other kind of venture, making sure there's enough progress on that project so that it'll be up and running by the time the program ends," said Professor Lovegrove. 
Internship hosts have also adapted their business and continued to support the Pivot Program.
A few employers had to furlough their staff almost immediately, so Pivot made sure to find other internship hosts or alternative skill-building projects for the fellows to work on. However, most of the internship organizations migrated online. 
"In that sense, the internship hosts were fantastic about it," said Professor Lovegrove. "They considered the fellows a part of the team like everyone else in the organization, so whatever everyone else was doing the fellows did as well. We have been pleasantly surprised by how attentive many of the hosts have been to the fellows around this period."
Professor Stiles had to adapt both her undergraduate class and her Pivot class to the new online setting at the same time. Each day she opened up her classes with a poll to gauge the pulse of the class. The poll asked, "How are you doing today?" and generated a word cloud from the responses. While both undergraduates and Pivot Fellows were generally positive, "tired," "stressed," and "anxious" were common responses from the undergraduates. For the Pivot Fellows, the word "blessed" appeared the most consistently. 
"As those weeks ticked by, the Pivot Fellows often said that they know what hardship is," said Professor Stiles. "They were really optimistic and confident that they would weather the storm, whatever it was. They were quite an admirable group of people looking to learn."