Sa'id Abdul-Wahid: Finding Hope Amid Hardship
Posted in News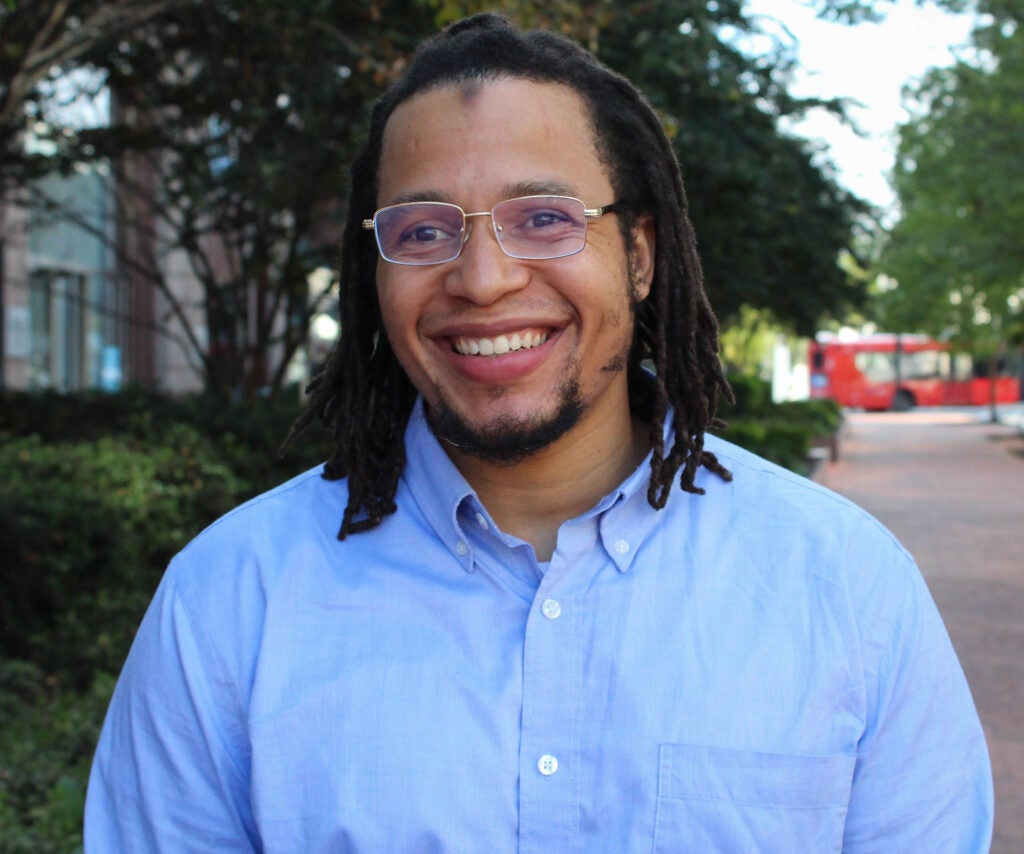 For Sa'id Abdul-Wahid, the Pivot Program wasn't just a professional opportunity – it also served as a safe haven and inspiration.
Abdul-Wahid had recently been released from incarceration and was living in a halfway house when he started in the Pivot Program in October 2021. Shortly before he transitioned into a more stable housing situation a few months later, he was devastated by the loss of his parents.
Throughout all of the challenges he faced, Abdul-Wahid says, the Pivot Program kept him motivated to keep moving forward.
"My resolve and my reprieve was Pivot," he says. "It was my breath of fresh air, something to hold onto when I didn't have anything or anyone else."
Abdul-Wahid says his commitment to Pivot and his experience in the program gave him the hope he needed during a difficult time.
"Pivot keeps me away from those dark places for too long," he says. "Without the encouragement to strive and further my knowledge, I would be stuck in the same dark places so many returning citizens get stuck in."
Support and Self-Sufficiency
Abdul-Wahid initially applied for the Pivot Program because of his interest in becoming a business owner. He says the program exceeded his expectations.
"I had this entrepreneurial drive before, but I didn't have any guidance or structure," he says. "Pivot has given me this structure and aim that I need to be successful, as well as a network of individuals that I can turn to for encouragement and support."
Recognizing some of his closest friends and mentors in the program, Abdul-Wahid adds:
"My classmate Amber Crowder had taught me so much about being a business owner. Dr. [Alyssa] Lovegrove has shaped me so much into a businessman with her sharpness. Ms. [LaTasha] Moore is like a big sister I never had who I've been able to turn to for comfort in the darkest of times. These are the kinds of people who make Pivot stand out."
Abdul-Wahid says Pivot is also unique among reentry programs because its rigorous coursework prepares Fellows to be self-sufficient and focused on their goals, even after graduation.
"Pivot is different," he says. "It has equipped us so that we can fend for ourselves in the workplace and the world."
Pursuing a Passion
During his time in the program, Abdul-Wahid honed his plans for a fitness company called A Warrior's Way, which he recently registered as an LLC. He presented his plans at the annual Pivot Pitch Competition.
He says he hopes A Warrior's Way will become a place where clients can come to get a workout in or to unwind. Taking the step toward creating his own business is one of the most fulfilling moments of his life, Abdul-Wahid says.
"I did it on my own because I knew it was the right step for me," he said. "This is the kind of independence Pivot has successfully instilled in me."
Toward the conclusion of the program, Abdul-Wahid interned at DICK'S Sporting Goods – a fitting workplace for someone with a passion for fitness. There, he learned more about the retail industry, merchandising, and marketing.
After finishing his internship and graduating from the program, Abdul-Wahid says he will carry its lessons forward with him as he moves into the next chapter.
"Pivot has taught us that we belong to something better and that our decisions are up to us, not to others," he says. "It's been tough, but Pivot kept me standing. It gives me hope."