Mustafah Muhammad: Making an Impact Through Community Leadership
Posted in Announcements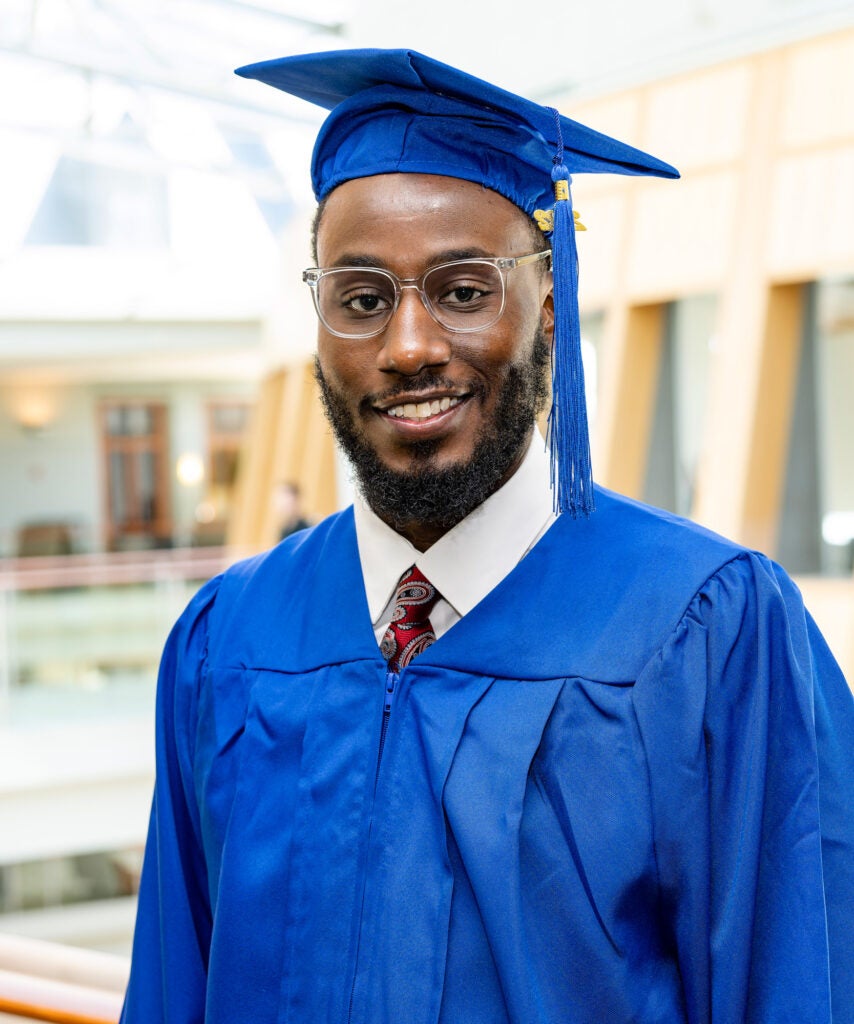 While incarcerated, Mustafah Muhammad worked at a law library, where he was continuously reading and learning.
"Being a law librarian gave me access to more information than other people had," Muhammad said. "When Congress tweaked the criteria for compassionate release during COVID-19, I was one of the first people to know what was going on. I started working on my case right away."
In February 2021, Muhammad's studies and work paid off, and he was granted compassionate release.
After coming home, several close friends recommended Muhammad look into the Georgetown Pivot Program. He was interested in sharpening his business savvy and technological skills, and he joked that one of Georgetown's main draws was its law library.
Muhammad's interest in the law and in the Pivot Program stems from his lifelong interest in justice, leadership, and community engagement.
"In marginalized communities, people are not taught about civic engagement," Muhammad said. "People don't understand how gentrification is putting them at a disadvantage and how the city will look 20 years from now. And they don't know those in the position or in authority to make those decisions."
Through the Pivot Program, Muhammad found a way to sit face-to-face with people who have influence in the community, he said.
"Pivot has given us the opportunity to rub shoulders with people, to learn with people, to collaborate with people and ultimately work together to change some of those outcomes in our community," Muhammad said.
Through the Pivot Program, Muhammad landed an internship with the Council on Youth, Education, and Families at the National League of Cities, an advocacy organization that supports local leaders and their communities across the country.
"I got to connect with city leaders and talk about effective strategies helping the youth, helping moms, and helping how the justice system engages with kids," Muhammad said. "It was really meaningful work, especially during the times that we are living in right now."
His internship with the National League of Cities solidified his interest in a future career in lobbying.
"There is a lot that needs to change in our communities, especially with regards to racial equity and the education system," Muhammad said. "Lobbying is one of the only tools available to help us get those types of things changed."
In the meantime, Muhammad has a few ideas for initiatives that could help make a difference in his community. He hopes to soon launch a youth chess club that focuses on teaching concepts like risk management and strategic thinking through chess. He also pitched his idea for Hybrid Elevation Reentry House, a halfway house and individualized transitional living model for returning citizens, at the Pivot Pitch Competition in early June.
Along with the rest of his cohort, Muhammad graduated from the Pivot Program on June 30. Reflecting on his experience in the program, he feels grateful for the support of his classmates and the program faculty and staff.
"We have a really great team here in Georgetown. I feel really privileged to be a part of the program," he said. "To me Pivot means an opportunity for redemption, an opportunity to show that returning citizens have numerous skills that they bring to the table."