Pivot Fellow Spotlight: Charles Hopkins
Posted in News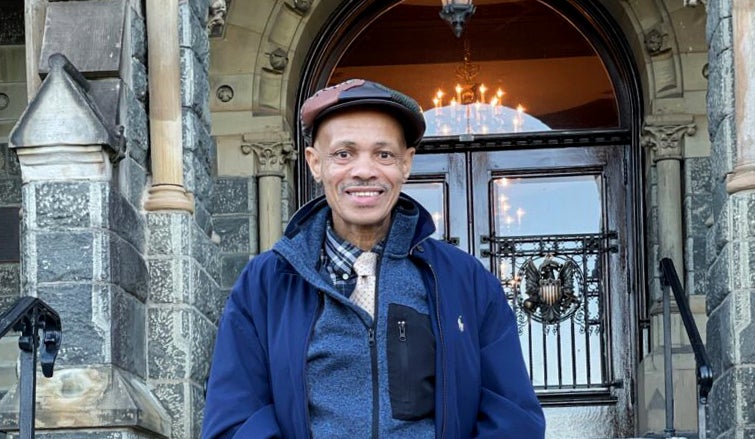 With the experience and mindset of an activist and organizer, Charles Hopkins was uncertain that a business and entrepreneurship program was right for him. But the Pivot Program, he says, opened him up to new ways of thinking and developed skills useful in any career path.
"Once I got into it, I realized it was a lot more than the entrepreneurial experience," he says of Pivot. "Yes, you will learn the business models. Yes, you'll learn how to network. But your relationship skills and your social skills will also grow exponentially."
Charles says that the Pivot curriculum and professors encouraged him to examine problems from multiple angles and to keep digging deeper for solutions and fine tuning his ideas.
"What impresses me about Charles is his consistent effort and dedication to the work. He is always completely engaged in class, whatever the topic, and always interested in learning new things. It's genuinely a pleasure working with him," says Pivot Academic Director Alyssa Lovegrove. "He has brought to the program the richness of his own life experience, his enthusiasm, and his desire to fix the system."
Vision and hands-on experience
Since beginning Pivot in fall 2020, Charles's hopes of working with other returning citizens solidified into plans to launch his own reentry network.
He envisions working in partnership with other organizations in the DMV area to provide services, resources, and support to people returning home from prison. After experiencing the many challenges within that process himself, Charles hopes to ease the transition for future returning citizens. He also aims to launch a podcast that can change perceptions of incarcerated people.
"That person has worth to society. The fact that someone has changed is not because of the criminal justice system but because they took the initiative to become a better person," he says. "If you provide people with the wherewithal and the means to take care of themselves or invest in supporting them, they will be less likely to go back to their old way of life."
Charles's dedication to supporting incarcerated and formerly incarcerated people made him a great fit for his internship with Fair and Just Prosecution (FJP), a network for local and state prosecutors committed to criminal justice reform.
"Charles has a deep commitment to using his experience and voice to bring about significant change to the criminal legal system and to lift up the stories of people who are currently and formerly incarcerated," says FJP Executive Director Miriam Krinsky.
Krinsky adds that Charles brings optimism, positivity, curiosity and openness to every conversation and task and embodies many of the policy issues FJP aims to address.
"His personal experience and time behind bars also provide invaluable insight and wisdom that is essential to any discussion about reforming the criminal legal system," she says. "And by getting to know him, members of our team can see firsthand the human face of why this work is critical and what is at stake in the reforms we seek to advance."
Confidence and connections
Charles and his classmates, the Pivot Program's third cohort, will finish their internships and graduate with their certificates in business and entrepreneurship in late June. As Charles lays the groundwork to launch his own ventures, the Pivot Program experience is helping him confidently build the support he'll need.
Throughout the program, Fellows learn networking skills and have opportunities to connect and exchange ideas with prominent business leaders who serve as guest lecturers.
"That made me perceive that I could be in a room with anybody and not feel less than," he says. "Pivot gave me a sense of self-confidence to go into areas that I would otherwise not want to go in because I didn't think that they would be receptive to me."
Charles says that despite his initial reservations about a business-focused program, Pivot gave him the tools to create his own vision of what an entrepreneur looks like — and how to serve others in the process.
"It gave me a sense of self confidence that I can actually be what I want to be," he says. "That's what got me into this idea of becoming self-employed. It has nothing to do with being an entrepreneur in the sense of a product. It has to do with the spirit of, you can produce something, you can be something, you can create something that can be self-sustaining and that can also help people."