Pivot Fellows Showcase Startup Ideas at Pitch Competition
Posted in News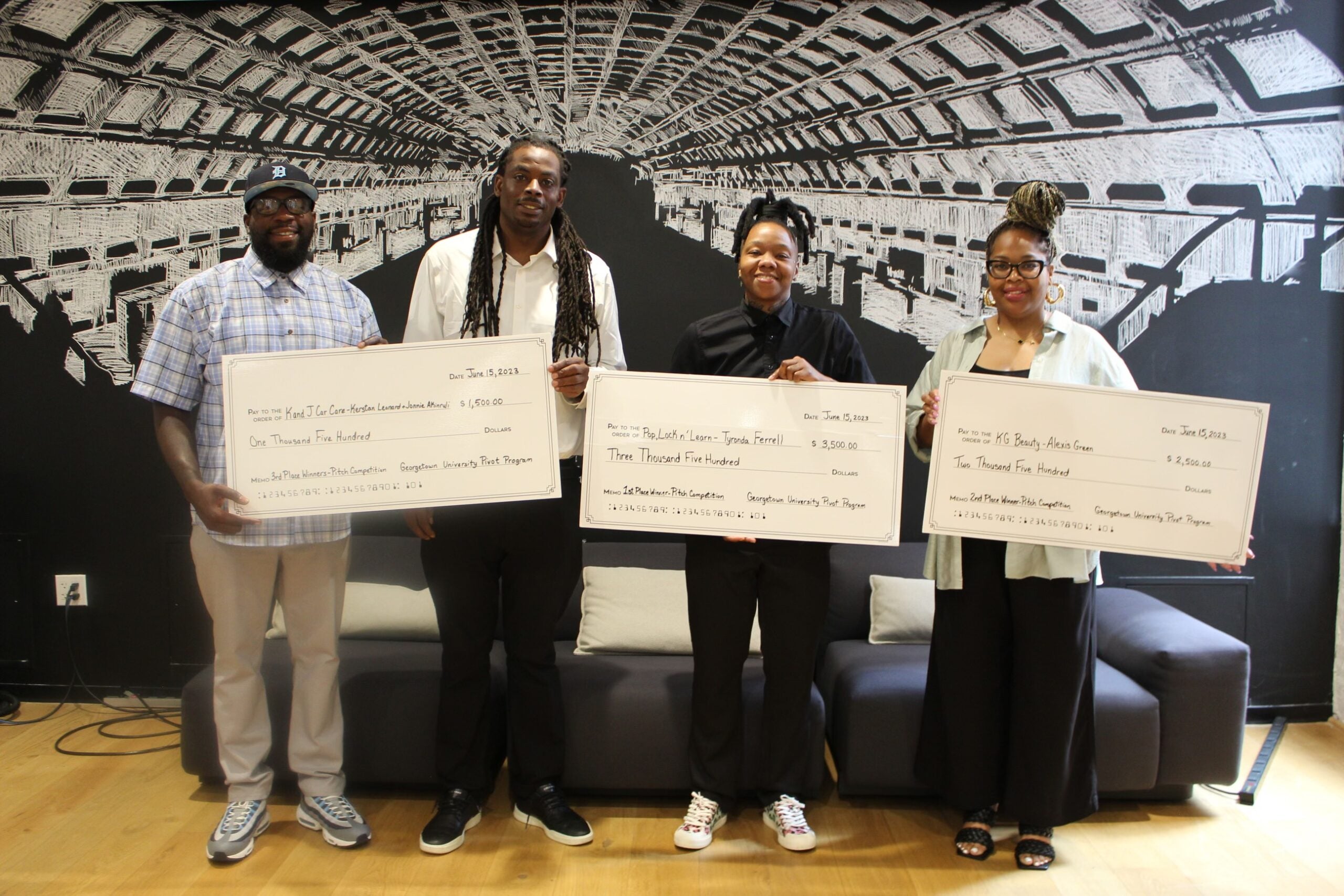 Georgetown Pivot Fellows presented their business ideas to a panel of judges at the program's annual Pitch Competition, and the winners walked away with seed funding to jump start their ventures.
The competition, one of the Pivot Program's flagship annual events, allows participating Fellows the chance to showcase the creative ideas and business plans they developed over the course of the nine-month program. A panel of judges ask questions, give feedback, and ultimately determine which idea they think is the strongest.
Seven Fellows participated in this year's virtual event and presented an array of business ideas across a variety of sectors, including education, car care, beauty, marketing and events, and sports.
After careful deliberation and scoring each presentation across three categories, the judges awarded Tyronda Ferrell with the first place prize for her venture idea Pop, Lock n' Learn, a summer dance program for kids that also incorporates digital literacy curriculum.
When her pitch was announced the winner, Ferrell, a lifelong dancer, said she jumped up out of her chair and moonwalked.
"I've dreamed of opening this program since I was a child because of what I went through," Ferrell said. "I feel like I have accomplished something huge in my life."
Taking second place was Alexis Green for KG Beauty, which would place beauty supply vending machines stocked with products specifically for Black customers on the campuses of historically Black colleges and universities – creating quick, 24/7 access to beauty essentials.
Third place was awarded to Johnnie Akinruli and Kerstan Leonard for K&J Car Care, a mobile car detailing and maintenance company that aims to take the hassle out of car upkeep.
A prize of $3,500 was awarded to first place, $2,500 to second place, and $1,500 to third place.
Three honorable mentions were also recognized for their business ideas and took home $750 apiece:

Musa Kamara for Huda Strategies, a company that provides marketing services, community engagement, fundraising, and event planning for nonprofits
Curtis Patterson for Drivers Education Course (DEC) Driving Academy, a driving school for D.C. teens
David Williams for HoopsConnect, an app that would connect basketball players with each other and with local pick-up games in their area in real time
Patricia Grant, Senior Associate Dean of the Undergraduate Program at the McDonough School of Business and one of the competition's judges, said she would gladly be any of the Fellows' first customer.
"The dreams that you shared today are needed in the world," she said. "So thank you for pushing past any fears and anxieties you have about sharing your ideas and your passions."
Regardless of whether a Pivot Fellow participates in the Pitch Competition – or even aspires to launch their own business – entrepreneurship has always been at the center of the program. Learning the ins and outs of starting a business reinforces the concepts of creative thinking, problem solving, business planning, and finance that the Fellows learn throughout their time in Pivot.
Two program alumni and one current Fellow demonstrated how they've been able to push their own entrepreneurship ideas forward in special showcases throughout the Pitch Competition.
Raashed Hall, a member of the current cohort of the Pivot Program, has been recognized at other Georgetown pitch competitions and in the media for his workout product the Power Push Up. Hall is in the process of developing a working prototype and hopes to start crowdfunding within the next few months.
Joe Houston, a 2022 Pivot graduate, gave an update on WeFitDC, a fitness and wellness company that brings exercise and health programs to underserved communities in the District. In June, Houston opened the doors to WeFitDC's first physical space in Ward 8's Congress Heights.
And Amber Crowder, also a 2022 graduate and last year's Pitch Competition winner, gave a look inside of Bloom, her upcoming bar and restaurant space on H Street in D.C., which she envisions as a thriving community space for queer people of color in D.C.
Watch the full Pitch Competition below, and check out more Pitch Competition videos here.
A special thanks to our Pitch Competition judges: Dr. Patricia Grant, John McNamara, Guillermo Pla, Erjona Prifti, Thomas Pryma, Chip Sherrill, Jason White, and Rohan Williamson.