Pivot Fellow Spotlight: Victoria Hunt
Posted in News

"Now, I really know what my purpose is moving forward."
Victoria Hunt says the Georgetown Pivot Program gave her the chance to envision a new role for herself as she re-enters the workplace.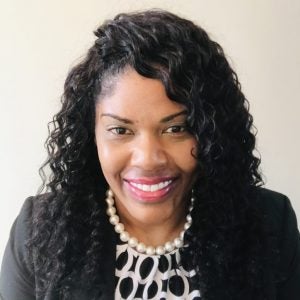 "When you are given an opportunity, such as being a participant in a Georgetown University program, the community and giving back is so important," she says.
Victoria says the Pivot Program put her in an environment and network full of both successful business people and other returning citizens who were in the same process of reentry.
"It was very enlightening to be surrounded by such a professional and experienced wealth of knowledge," Victoria says of Pivot. "And individuals that truly have an understanding of what it is like to be a returning citizen and re-entering back into society wanting to excel and be successful."
The faculty of the Pivot Program praise Victoria for her successes in and out of the classroom environment and for her dedication to her peers and her own goals.
"Victoria has been such a calm and positive presence in the cohort," says Pietra Rivoli, the executive director of the Pivot Program. "She has a big heart as well as a strong work ethic, and she epitomizes what it means to be a team player."
Working to Give Back
With what she's gained from the Pivot Program, Victoria believes it is now her responsibility to help others.
Her work is already underway. Victoria is concluding her three-month stint as a Community Marketing Manager intern with DICK'S Sporting Goods.
"I make sure that the DICK'S Sporting Goods brand is involved in youth sports within the community from the level of learning how they organize sponsorships for leagues and coaches so that their youth athletes are able to get geared up for their season," she says of her role.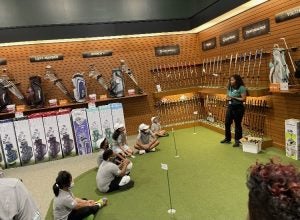 During her internship, Victoria worked on numerous projects focused on young athletes.
"She hit the ground running and quickly learned about key aspects of our business — focusing on community engagement, marketing and Inclusion & Diversity initiatives," says Lisa Mosby, the Senior Director, HR Business Partner at DICK's Sporting Goods. "She was instrumental in our Urban Store Project, collecting insights and developing a playbook that can be applied to markets beyond the Washington D.C. area."
The passion and work ethic Victoria demonstrated during her time in the virtual classroom with the Pivot Program also carried over into her internship.
"Her passion and commitment has shown through not only in her work product and community partnerships, but also through her day to day collaborative style," Mosby says. "Victoria's knowledge and expertise in sports has also served her very well in this internship — easily connecting to our Common Purpose to personally equip all athletes to achieve their dreams."
DICK'S and the Pivot Program both recently joined the Second Chance Business Coalition, a cross-sector group of businesses committed to hiring and expanding career opportunities for people with criminal records. These companies give people like Victoria a chance to follow their passions and reach their career goals.
For Victoria, her internship has been a way to learn how a major national retailer operates its business and charitable work.
"I now have more of an understanding of how a conglomerate of this magnitude in retail utilizes their marketing and sales for philanthropy work," Victoria says.
In addition to the professional experience, Victoria's experience with DICK'S contributes to her larger goal of giving back to communities through sports.
"My purpose is to be able to offer the youth in underserved communities resources for sports and education," Victoria says. "I have a focus to be able to utilize my business skill sets to hopefully help that gap become much smaller."
Victoria was recently offered a full time job with DICK'S, where she will continue to focus her efforts on outreach to underserved youth. As she concludes her time as a Pivot Fellow, Victoria urges upcoming Fellows to take advantage of the program's resources to discover their passions, just as she did.
"Pivot gives you time to really figure out what your gifts and your purpose are to help others and also be successful," Victoria says. "That's what I've had time to really be able to evaluate."