Pivot Fellows Begin 2023 Internships
Posted in News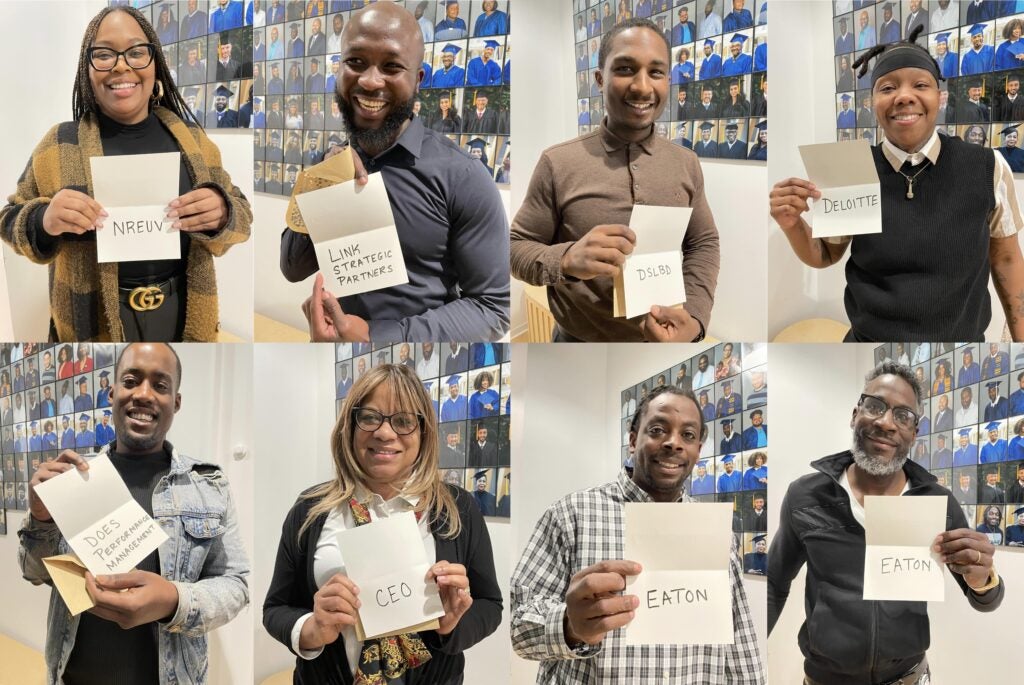 The Georgetown Pivot Program Fellows began professional internships on March 13, beginning the final stage of their Pivot journeys.
After five months of full-time classes, Pivot Fellows are matched with a three-month internship placement, where they will gain hands-on work experience and build their professional connections. These internships are an integral part of the program that gives Fellows the opportunity to employ the skills they have learned in the classroom, and they often lead to full-time employment after graduation. Pivot's Executive Director Alyssa Lovegrove said that over time, there has been an evident shift in the value proposition from employers.
"As organizations dig deeper into the results of their diversity and inclusion initiatives, many are starting to see the connection between inclusivity and second chance hiring, and are recognizing that a meaningful change in their hiring practices is critical," Lovegrove said. "The Pivot Program provides these companies with a tailor-made way to explore what changes are needed, and our employer partners also know that we can provide support as or when they encounter resistance."
This year, 11 companies are hosting Pivot Fellows, including one of Pivot's institutional partners and three corporate members of the Second Chance Business Coalition (SCBC). These companies have partnered with Pivot in pursuit of their greater efforts to destigmatize and expand second chance hiring.
"What stands out is the talent, breadth of skills, and level of expertise that is bought to our team by the fellows whom we have worked with over the years," said Michael Akin, the president of LINK Strategic Partners, which has hosted four Pivot interns since 2020. "The insight that Pivot fellows bring through their lived experience truly bolsters the diverse perspectives and capabilities of our team, and in turn, strengthens our commitments to both our hyperlocal and global communities."
The Fellows and internship hosts got to know each other through classroom visits and interviews, and Pivot matched each host with one or more interns based on company needs as well as the Fellows' career goals.
"The Pivot Program opened me to a network of people I might otherwise have been unable to reach," said Musa Kamara, who is interning with LINK Strategic Partners this spring. "The program has matched me with an organization where I can develop my skills and which shares my professional values."
On March 3, each Fellow opened an envelope revealing their internship placements, as their classmates burst out in cheers and applause.
"That was my first pick," said Jonni Akinruli, who is interning with the DC Department of Employment Services in their payroll department. "I'm feeling blessed, happy, excited, overwhelmed."
"With the help of Georgetown and the Pivot Program, I'm excelling in life," said Roger Clark, who is interning with Northern Real Estate Urban Ventures (NREUV). "We're one step closer to my goals, and I appreciate it."
Watch the Fellows receive their internship matches!
2023 Pivot Fellow Internship Placements:
Jonnie Akinruli – D.C. Department of Employment Services (DOES)**
Roger Clark – Northern Real Estate Urban Ventures (NREUV)
Kelli Davis – Center for Equal Opportunities (CEO)
Keith Eatmon – USA Guided Tours
Tyrell Frierson – Eaton Corporation*
Shana Frundt – Lafayette Square
Alexis Green – Northern Real Estate Urban Ventures (NREUV)
Raashed Hall – Eaton Corporation*
Julian Harrington – Shirley Contracting
Darius Jennings – Eaton Corporation*
Musa Kamara – LINK Strategic Partners
Kerstan Leonard – Eaton Corporation*
Markese Lewis – D.C. Department of Employment Services (DOES)**
Curtis Patterson – D.C. Department of Small and Local Business Development (DSLBD)
* Second Chance Business Coalition member
** Pivot Institutional Partner